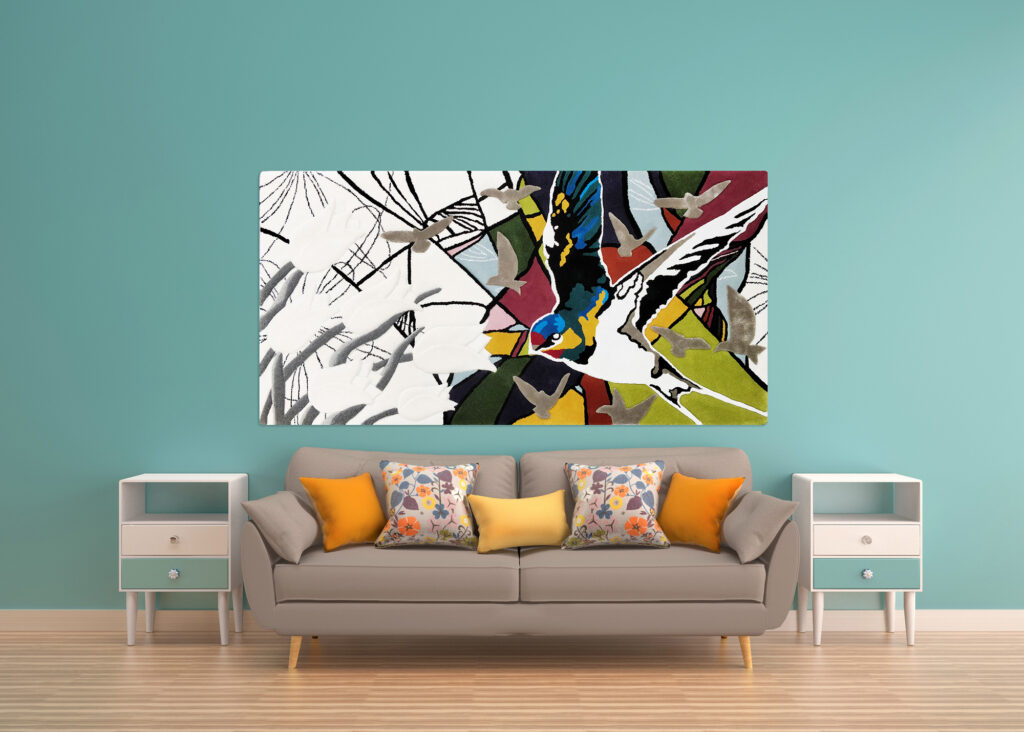 Hand-tufted carpets have long been a popular flooring option due to their durability,
comfort, and versatility. However, in recent years, designers and homeowners
alike have begun to recognize the potential of these textiles as wall art.
Hand-tufted carpets as wall art can add texture and depth to a room. Unlike traditional paintings or prints, carpets have a tactile quality that can create a cozy and inviting atmosphere. They can be used to add a pop of color to a neutral room or to tie together different design elements. They have a three-dimensional quality that draws the eye. These luxurious carpets create statement in a room.
Unlike traditional wall art, hand-tufted carpets can be touched and felt,
adding a tactile element to the space that has a deeper psychological impact on
the viewer.
Wall carpets are not only aesthetically pleasing but also practical. Carpets
are known for their sound-absorbing qualities, which makes them perfect for use
in noisy spaces. By hanging them on the wall, you can reduce the echo and
create a more peaceful environment.
When it comes to choosing the design for your wall, there are a few things to keep in mind:
1.   The size and shape of the piece:  A large carpet will make a bold statement on the wall, while a smaller one can be used as an accent. The shape of the carpet will also influence how it is hung on the wall.
2.  The colors and pattern: A bold, colorful pattern will add energy and excitement to a room, while a more muted one will create a sense of calm and serenity. The design of the carpet should complement the existing decor of the room.
3.   Securing it to the wall: Securing a hand tufted carpet onto a wall can be a challenging task. These pieces are quite large and heavy, thus require special hanging hardware to ensure they stay securely on the wall.
4.   Lighting: Like with any type of art, a carpet as wall art, requires a thoughtful placement and lighting. A hand-tufted designer carpet is an investment, so make
sure it is properly illuminated and showcased.
The use of hand-tufted carpets as wall art is definitely a trend that is gaining momentum. They are not only functional but also beautiful and luxurious works of art. A versatile option for anyone looking to add a touch of creativity to their walls to create an inviting atmosphere.
Heleri Alexandra Sits rug designs are works of art that can be hung on walls like traditional paintings. These unique carpets blur the line between art and functional design. Custom made carpets are customisable, meaning they can be tailored to your specific style and needs. We can create one-of-a-kind pieces of art that are perfectly suited to your space.